How AccessAnywhere Delivers Hi-Performance, Secure and Reliable VPN Connections For Remote Users And Branch Offices
Whether you're a small business owner with 2 partners or a mid-sized company with 1000 employees, you can count on AccessAnywhere's unique security architecture to provide "anywhere" access to email, data files, or your accounting system without compromising the security of your network or providing access to unauthorized users. Best of all AccessAnywhere manages, monitors and supports it all for a low monthly subscription fee and there is no equipment to purchase, staff to hire or software to install!
Dedicated On-Site VPN Hardware - High Performance Protection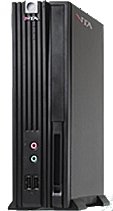 To secure your company's remote connections AccessAnywhere installs a "free" perimeter security gateway (a purpose built SSL VPN appliance) on your company's network that is specifically configured for your company. It hides and protects your network resources and ensures that no confidential or proprietary company data assets are ever exposed or vulnerable to the Internet. Furthermore, having your own dedicated remote access appliance means that you are not sharing service provider bandwith and computing resouces with other companies.

Authorized Access Only - No Hackers Allowed
AccessAnywhere can include personal identity tokens for each user that

guarantees "who" can access your companies network resources and exactly "what" they are authorized to access. The security token is a small plastic token that generates "one-time" use passwords that the remote user enters with a PIN number "only the user knows" at the time of login to gain access to the service.

High Grade Encryption - Prevent Prying Eyes

Of course all of your data that is sent between remote users and your office is encrypted using industry standard SSL (Secure Socket Layer) encryption. The same security used by financial intitutions to secure your on-line banking experience.

End-to-End Security Protection - Managed by Experts

The combination of an AccessAnywhere Gateway, personal security tokens, and company specific, granular security policies managed by AccessAnywhere Operations Center experts, provides end-to-end protection of private information exchanged over the Internet.

Click here to view a diagram of the AccessAnywhere Remote Access VPN Platform.